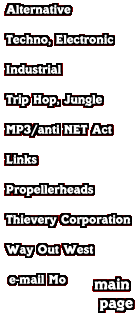 EUROTRASH, INDIE, MODERN ROCK

Beck--Odelay is a superior album with a bit of the Dust Brothers' help.
Black Grape--Enjoy the genius of Danny Saber.
Blur
The Charlatans UK
Cibo Matto
The Clash
The Clash (2)--The Clash Alternative. Lots of rare information.
Colourbox
Combustible Edison--Fine lounge music.



The Cure--New album "Galore" features single from 1987-1997. Very highly recommended!
The Cure (2)--Rare and unreleased MP3 archive and info center.
The Cure (3)--Site with official discography and videography.
The Cure (4)
Curve--New album "Come Clean" is coming to wreck heads and surprise Shirley Manson fans.
Edwyn Collins
Electronic--New Order and The Smiths?
Filter
Fugazi
Garbage
Girls Against Boys
The Jesus and Mary Chain
Jon Spencer Blues Explosion, Boss Hog, Pussy Galore
Luscious Jackson



Lush
Lush (2)
Lush (3)
Manic Street Preachers
M|A|R|R|S
The Melvins
Mr. Bungle
My Bloody Valentine--Rock with subtle and brilliant instrumentation.
Nirvana
Oasis
Oasis (2)
Pavement
Pearl Jam
The Pixies
Poe
Primus--At Primus shows, fans yell "Primus Sucks!"
Primus (2)--The official Primus Sucks page.
The Psychedelic Furs, Love Spit Love--Check out Richard Butler's track with BT on the Jackal soundtrack called "Shineaway".
Radiohead--Re-mix album is in the future.
Radiohead (2)
Rage Against The Machine
R.E.M.
R.E.M (2)
Sarah McLachlan


Smashing Pumpkins--"Adore" arrived in stores June 2, 1998
Smashing Pumpkins (2)
The Smiths--The excellent "Cemetery Gates" homepage.
Sneaker Pimps--Check the single "Spin Spin Sugar" with Armand's Dark Garage Mix.
Sonic Youth Soup Dragons
Space--"Spiders" is one of the best albums of 1997.
Spacemen 3--Pioneers of spacey free-form rock that defies classification. Also see Spiritualized.
Stereolab
Stone Roses


Sublime
Sublime (2)
Sublime (3)
The Tea Party--Canadian alternative industrial band that uses instrumentation from every considerable corner of the world.



---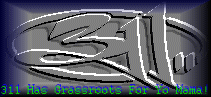 311
"Life could slip away in absent-minded numbness..."



I didn't really like Transistor. Mike Casper liked it and did a review for me:
"I think Transistor is a great album. But it is nowhere near a 311 album favorite of mine. I love how the album starts off. It gets the energy going with songs like Transistor, Prisoner, Galaxy, Beautiful Disaster, Electricity, What Was I thinking, and Jupiter. But it really comes to a halt when Use of Time and the Continous Life come around. It picks itself right up with a great pop rock song like Running and a slow yet hard metal song like No Control. Then it enters the sleepy phase with the instrumental Colors and Light Years. Light Years is a song you have to be in the mood for...like Halloween. Then there is the dullness of Creature Feature comes and by far the worst 311 song I have ever heard, Rub a Dub. Rub a Dub brings me back to Sesame Street. When you think the album is going to continue in a downward spiral it picks itself with Tune In, Starshines, and Borders. Strangers and Stealing Happy Hours are the last slow jams on the album and they are also the best slow jams on it. So this album captured my likes and dislikes of 311. I especially liked 311 incorparating dub into their music. What I did not like was all the slow jams. 2 or 3 is more than enough especially for a band like 311 but 5 or 6 is too many. If you feel like chilling put on the slow jams. To conclude this review, I hope 311 keeps incorparating dub into their future music but with a much harder approach like Music or 311 the album."

Enlarged To Show Detail is the bonus CD that comes with a very funny video. Listen to the disco retro song "Gap" and the deep bass rap on "Firewater". 311 is not so hot on the first two tracks though except for the guitar work on "Let The Cards Fall".

Their latest album is 311, which is a masterpiece of guitar-driven rap and vocals. "Purpose" flows with unbelievable reggae charm. "Don't Stay Home" incorporates rock, reggae, and a bit of rap at the end for one of their best and most popular songs. "Down" is a song that has also gotten much popularity because of its smooth mix of rap and reggae. In songs like "T&P Combo", 311's rap talent truly shines with great delivery.

The album before their latest is Grassroots. The songs focus more on reggae and less on rap for a more peaceful and mellow atmosphere. "Homebrew," "Taiyed," "8:16 A.M.," and "Omaha Stylee" show 311's great talent for both lyricism and music. Perhaps the most catchy line is "Damn, know you feel good too, gotta choice of what I'm gonna do it's like this that, swingin' on my bat, mix some melody with some back chat" in the song "Lucky," one of their finest.

Music is their first major release album and their best. Sampling is used to add flavor, making it less harsh than Rage Against The Machine. This music contains varieties of rap mixed in with great guitar and reggae. "Do You Right" is, IMHO, the BEST 311 song of all time. The lyrics are so relaxing and the guitar is magical.


311 (2)--Guitar Tabs.
311 (3)
311 (4)
311 (5)
311 (6)



---
Tori Amos


U2
U2 (2)

U2 (3)
U2 (4)
U2 (5)--U2 Rare MP3s
White Town--Net friend's official page.
The Wolfgang Press--Goth-twinged funky rock.
The Wolfgang Press (2)






You are music addict



to visit since September 17, 1997.
This page was last updated October 5, 1998.