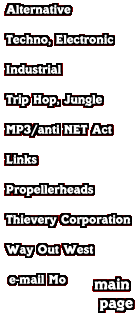 Industrial (i.e. Skinny Puppy)--Music characterized by distortion and darkness with excessive use of synthesizers. Guitars make it industrial metal.

Gothic (i.e. Sisters of Mercy)--Gloomy music in the tradition of Joy Division with diverse instrumentation and characteristic dark clothing =)

EBM (i.e. Front 242)--A subdivision and pre-cursor to industrial, with lots of synthesizers, no guitar, and little distortion.

Dark Wave (i.e. Wumpscut)--Dark music with characteristics of industrial, goth, and techno.

Ethereal (i.e. Cocteau Twins)--Not to be confused with gothic. Involves careful use of all instruments to evoke a feeling. Vocal qualities are very important.


---
Acumen Nation

Acumen Nation (sound)--Listen to "Djentrify".
Alien Sex Fiend
Apoptygma Berzerk--Brilliant coldwave EBM.
Apoptygma Berzerk (2)--Discography.


Argyle Park
Aube
Bauhaus, Peter Murphy--"Cuts you up" is simply an amazing song. Murphy was the vocalist for Bauhaus.
Birmingham 6--"Error of Judgement" features Jean-Luc De Meyer from Front 242.
The Boredoms--Japanese irreverent noise band.
Cabaret Voltaire
The Cassandra Complex
Chemlab


Chemlab (sound)--Sound clip of "21st Century"


Circle of Dust--Impressive Christian industrial metal music.
Circus Of Pain--See also Swamp Terrorists.
Clock DVA--Industrial electronic orignators.
Cocteau Twins
Coil
Collide
Consolidated--The highly sociopolitical industrial rap group.
Covenant
Cranes
Cubanate--Techno industrial at high BPM that beats your brains out.
The Cult
Currrent 93
Dead Can Dance


Deathline International--The most talented unsung industrial band in existence today.


Diatribe--Very talented production of industrial metal.
Diatribe (2)
Die Krupps--Power metal.
Die Warzau--Funky electonic industrial.
Diode
Download--Industrial techno noise.
Einsturzende Neubauten


Evil Mothers
Flood--Genius with synthesizers, samplers, and loops. He has produced The Associates, Boo Radleys, Book Of Love, Cabaret Voltaire, Nick Cave, Charlatans UK, Cranes, Crime and the City Solution, Cure, Curve, Depeche Mode, Elastica, Erasure, Gavin Friday, PJ Harvey, Jesus and Mary Chain, Massive Attack, New Order, Nine Inch Nails, Nitzer Ebb, Node, Pop Will Eat Itself, Renegade Soundwave, The Silencers, Smashing Pumpkins, Sneaker Pimps, and U2.



Front 242--Innovators of modern industrial dance music.
Front 242 (2)


Front 242 (3)
Front Line Assembly
Front Line Assembly (2)
Gudrun Gut--If you like Switchblade Symphony...
Hate Dept.--New album this year!



Haujobb

Haujobb (2)


Heavy Water Factory
CD Front, | CD Back--Cover of "Author of Pain" courtesy of Cadaver.


Imbue--The other half of the former Under The Noise band with a new release coming January 1998. The album is a varied sonic assault of many different genres and promises to be big this year.


Inner Warfare
Ipecac Loop
Killing Floor
Killing Joke

KMFDM, Excessive Force--New promo album "Retro" is not in stores but will be while on tour.
KMFDM (2)--New album "KMFDM" will be available September 23, 1997.
Leaetherstrip, Klute
The Legendary Pink Dots
Love and Rockets
Love Is Colder Than Death
Malhavoc
Mentallo and The Fixer--Cold-wave electro masters.
Merzbow--Raw noise pioneer. Extremely insane to listen to.
Mesh--Industrial pop!?
Ministry--Ministry does industrial metal better than CSX could do any kind of industrial metal.


Ministry (sound)--Sample of "Reload".
Miranda Sex Garden



My Life With The Thrill Kill Kult--New album "A Crime For All Seasons".
My Life With The Thrill Kill Kult (2)


My Life With The Thrill Kill Kult (sound)--Listen to "Twilight Web" with a funky Java applet.
Negativland--Samples are their game, regardless of copyright problems...



Nine Inch Nails
Nine Inch Nails (2)--Halo 11 is out. It is a re-mix EP of Prefect Drug.
Nine Inch Nails (3)--MP3s!!!
Nitzer Ebb--Industrial techno with very hard beats and loud guitar.
Non-Aggression Pact--Did I say propaganda?
Nurse With Wound
Pig


Pigface
Pitch Shifter
Pop Will Eat Itself
Psychic TV
Psychopomps
Rammstein
The Residents--The most famous band that no one has heard about.
Revolting Cocks--Nice name, but one of the most important industrial bands of the 80s.
Rosetta Stone
Sheep On Drugs
Sister Machine Gun--New album "Metropolis" is their best yet.
Sister Soleil
Sisters of Mercy
16 Volt
Skrew



Skinny Puppy--THE industrial originators and innovators; they use relentless samples and noise.
Skinny Puppy (2)--Look for a re-mix album from Nettwerk in 1998.
Skinny Puppy (3)
Skinny Puppy (4)--Sound source archive
Skold
Sky Cries Mary--Experimental, noise, and industrial grooves.
SMP--aka Sounds of Mass Production, elektro-punk-cyber-rap from Seattle.
Spahn Ranch
SPK
Swamp Terrorists
Switchblade Symphony--Darkly gorgeous, darkly beautiful.
The Tear Garden--Select from the menu.
Terminal
Thessalonian Dope Gods
This Mortal Coil
Throbbing Gristle
TUDISH--The Unofficial Delerium Intermix Synaesthesia Homepage.
Under The Noise--Split into Urania and Imbue.
Urania--Formerly 'Under The Noise'. New EP "Aquarius" is out now.
Uranium 235--Cool industrial band from Brooklyn.
William S. Burroughs
:Wumpscut:
X Marks The Pedwalk
Xorcist
Xymox (Clan of)






You are music addict



to visit since September 17, 1997.
This page was last updated July 30, 2000