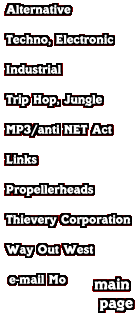 LINKS/MISC
Bob Marley
Brian Eno
Ennio Morricone--Soundtrack genius.
Esquivel--Orchestral and compositional mastermind of jazz, lounge, and TV soundtracks.
Funkadelic, Parliament, George Clinton
Jean-Jacques Perrey--Master of the moog and innovator of electronic music.
Jimi Hendrix
John Coltrane
Joy Division
Klaus Schulze
Kraftwerk--Simply indispensable electronic innovators.
Les Baxter--Innovator of exotica and experimental electronic music.
Louis Armstrong
Martin Denny--Exotica and strange music.
Miles Davis
Pink Floyd--IMNSHO, the most important, innovative rock band of all time.
Pink Floyd (2)--MP3s.
Pink Floyd (3)
Tangerine Dream

top


---
RECORD LABELS

Aphrodite Recordings--Home of Aphrodite a.k.a. Urban Takeover's massive phat jungle beats.
Asphodel--Home of the X-ecutioners and other trippy brain juice.
Astralwerks--Home of the chems.
Chrysalis--I must thank them for the amazing electronic/alternative music samplers that they sent me.
COP International--Far and away my favorite industrial label.
Deconstruction
4AD
Grand Royal--The Beastie Boys' label.
Melankolic--I know you like that Bristol trip hop.
Metalheadz
Ministry Of Sound
Moonshine--Cool electronic label, featuring Cirrus and DJ Keoki.
Mo Wax--The essential label for turntable acid jazz and trip hop; home of DJ Shadow.
Nettwerk
Ninja Tune--The label of Coldcut, Herbaliser, DJ Food...


nSoul--Christian house, techno, etc...
Plus 8--Hawtin's label of real Detroit.
Pork--Home of Fila Brazilia and other trippy, jazzy stuff.
Rawkus--A hip-hop label true to their calling. Also featuring some drum and bass/electronic music.
Rephlex--Home of Aphex Twin.
Skint--May be my favorite indie label. They are home to Fatboy Slim and Bentley Rhythm Ace.
Solsesides--DJ Shadow's indie label.
Stones Throw--Sure to get ill with this indie hip-hop label.
Strictly Rhythm--Masters at work.
Suburban Base--Phunky drum and bass label. Home to DJ Hype and D-Cruze.
Toulhouse Records--A nice house label from France.
True Playa'z Music--Drum and bass and jungle from the dark side. Home of the Ganja Kru.
Wall of Sound--The new official site!
Wall of Sound (2)--The label that brings you the Propellerheads.
Warp--Home of the innovators of modern electronic music.
XL Recordings--Home of electro phunk.

top
---
Mo's Cool Links:

All About Techno
Asian DJ Coalition
Beat Freakery--The online mag for all music with phat beats.
Bomb--Hip-hop as it was meant to be. Real.
Boombox--Sample a whole variety of the latest music in RA.
Brainwashed--Shedding light on the most underrated bands of our time.
Breakbeat Science--The first online drum and bass store?
Crossfade--electronic music reviews resource.
Davey D--The biggest hip-hop site on the net.
Derelict Entertainment--An independent trance, acid, ambient sound from Denison, Ohio.
DJ Rhythms--The premiere DJ site.
DJs Most Wanted--Detroit's most wanted.
Dotmusic--UK charts.
Dotmusic talent--An excellent resource for info on cool artists. I borrow quite a few links from them. (Ignore the Spice Girls section).
Drum and bass sounds
Fused--An online mag about uk underground music.
GEMM--Find any release in the world. If it's not here, it doesn't exist.
House Nation-- A stylish source for house info.
Hip-Hop.com
Indie Record Labels--A large list.


Kilo 4-3--Techno equipment and information.
Kim's Groovin Page
JumpSite--For all you swingers!
Lyrics Search--Very highly recommended. I found everything from Depeche Mode to Prodigy and Chemical Brothers.
Mixmag--The world's premiere magazine for all techno music.
Modern Music--The coolest underground store. And I practically live by it.
Music Machines--Hyperreal's resource for synthesizer samples.
NME--One of the best UK magazines.
113: Beats--Free breakbeat samples for making music.
On Line Guitar Archive


The Partial Guide--To Independent Record Labels.
Post Rock--Experimental rock: the alternative to alternative.
Rap Dictionary--It's where I get my rhymes.
RealAudio
Resonance--A cool site for purchasing rare techno vinyl.
SampleNet--Getcha samples.
Sandbox Automatic--THE vinyl hip-hop store.


Sonic Boom--It's back!
Sound Central--Sound files galore for sampling and tweaking.
Sozra--The Earth Space Continuum. Check out the "virtual ambient cybermusic".
Spinlolly--Gifts for the electronically inclined.
Steve's SoundBits--Techno clips in RealAudio.
Streetsound--For the latest on all modern genres of music.
The Supersonic Guide--The best British music site on the web.


Tastyfresh--Christian techno/electronic music.
Technics Turntables


Triple Dot MaS--A Chi-Town movement towards unity and harmony amongst creative people through our multimedia events we promote community of the arts.


Turntablism.com--Learn how to scratch, detailed tutorial.
The Ultimate Band List
The Vinyl Exchange
Welcome to the Flux
Wicked Styles--DJing 101
WWW Music Database
XLR8R--A leading mag for electronic high.

top






You are music addict



to visit since September 17, 1997.
This page was last updated May 14, 2003.