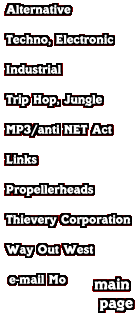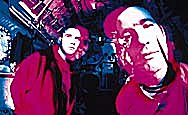 Who'd have thought that a duo named after the
Californian term for computer nerds, playing an
instrumental mishmash of breakbeats, hip hop, acid
and house music would be one of the hottest things
in new music in 1997?

But in the past 12 months, UK music has undergone
some profound changes and, after the recent
success of The Chemical Brothers, Underworld
and The Prodigy, the Propellerheads have every
right to expect that big things are just around the
corner. The duo - Will White and ex-Grid
engineer Alex Gifford - have only released three
singles, Bring Us Together on Pussyfoot, the
full-on juggernaut that was the Dive EP and its
equally forceful follow up Take California, both on
Wall Of Sound.

These three releases have been enough to mark
them out as rising stars of the alternative dance
scene, but it is their live shows that have given them
an added edge, particularly as part of Wall Of
Sound's Stud Farm tour. Keyboards, massed
percussion, four-deck mixing and a little human beat
boxing has meant that, in the flesh, the Props (as
they are more commonly known) provide an all
encompassing, energetic breakbeat fiesta. "People
have been going to the gigs then buying the
records," says Wall Of Sound's label manager
Jemma Kennedy.

Despite a wealth of A&R offers, the
Propellerheads have stayed loyal to Wall Of Sound.
"They know we understand them, that it's not
just about money, and they understand us,"
says Kennedy. "They're very clear about what
they want to do and they know we're
supportive of their ethos." Dive was re-released in the UK in
March 1997. The single broke into the Top 75 on its
release last year, but a deal to use the music in a
worldwide Adidas TV campaign will undoubtedly
explode the track into the upper reaches of the
charts.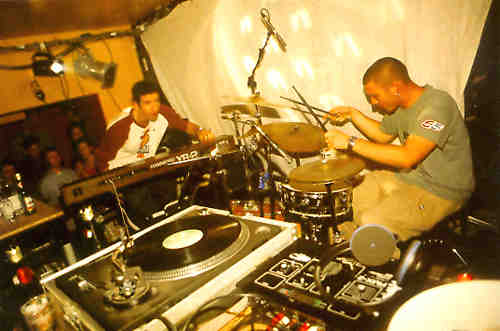 Propellerheads is Alex Gifford, Will White, four decks, a drum-kit and
a Hammond organ. Alex has been riffing and bleeping it up all around the
world for the last few years with technoid nobbers The Grid amongst others.
The first Propellerheads record sampled a pedestrian crossing Alex found
in Sydney, and another one features what must be the oldest woman ever to
appear on a Hip Hop record, she's about 90 ... all completely ludicrous but
it works.


WHAT DO THEY SOUND LIKE?
Pigeon hole at your own risk. Put it this way, they planted a four track sentex package that Wall of Sound UXB
team had to deliver. Their debut "Dive" EP was released on WOS the 1st of April 1996. It was a monster
moving, freeform bassbleepspinesnapping beats extravaganza - four tracks that covered every extreme and
just about every BPM.

IS THAT IT?
Far from it. More warnings followed with "Bring Us Together" on the Wall of Pussy longplayer, and now they are
raising the pressure with a demand to "Take California" on the latest installment of the "Give 'em Enough
Dope" compilation series. No one dares get in the way of their bazooka beats.

CAN THEY PLAY LIVE?
Damn right. The sets veer unpredictably between four deck work (both Alex and Will on the turntables) to live
organ (Alex) and drums (Will). Frantic and energetic, the Propellerheads are shooting all prisoners and blowing
away the competition. They're not loitering behind the mixing desk, they're out front, on the gear, doing
everything a live set should be. Get the picture?

WHERE CAN I FIND THEM?
All over the shop. Part of the WOS strike force, they have spent the summer invading European air space and
kicking up some serious dust with their four deck shenanigans. At all times sticking to their slogan: "You've got
to party for your right to fight." They're set to be the house band at Wall of Sound's "Back To Mono" residency at
the Blue Note from October 17, 1997. More danger for Metropolis.
ANY INTEREST?
You bet! Everyone wants a bit of the action and can you blame 'em? Adidas have called on their sonic dexterity
for their new worldwide advertising campaign. Tangy has been busting them out on Radio 1 at every
opportunity, and the boys have recently joined forces with Dreamworks in the US.

WHAT ELSE THEY GOT GOING ON?
Remixing and gigging. Knob twiddling for the next 808 State single with James Brodfield on guest vocals.
Recent mixes under the belt for Luscious Jackson and Soul Coughing. Also on the mixing desk for Mekon and
The Cure. And watch for a redo of John Barry's On Her Majesty's Secret Service. Basically they're having a right
old laugh. I think you get the picture.


Everyone lost the bidding war: Interscope, Island, etc.
The Propellerheads will stay with Wall of Sound until
the label finds a deal for the whole company to be bought
out. The props are neutral about remaining "indie" and would
like the exposure that a big label could get them. There is a deal
with US label Dreamworks for the release of the single "Bang On"


**************PROPELLERHEADS DISCOGRAPHY************************

COVER ART:
Dive EP
History Repeating single
Bang On EP
Propellerheads Super Bon Bon re-mix
Decksandrumsandrockandroll


THE GOODS:
Cat No: WALLT/D 016
Format: 12"/CDS
Title: Dive EP
Tracks: A1 Dive! A2 Ron's Theory B1 Lethal Cut B2 Go Faster
The song used in the Adidas commercial. Lethal Cut is also available on Altered State, a compilation from Solid State Records SoildCD4.

Cat No: WALLT/D 024
Format: 12"/CDS
Title: Take California
Tracks: A1 Take California B1 Big Dog B2 Props Got Skills

Cat No: WALLT/D 029
Format: 12"/CDS
Title: Spybreak!
Tracks: Spybreak (short one), Clang, Velvet Pants, Spybreak (long ong)
Other: see WALLT 029X. Spybreak also found on the Playing God soundtrack.

Cat No: WALLT/D 029x
Format: 12"/CDS
Title: Spybreak! release 2
Tracks: Spybreak (short one), Props Got Mo' Skills (live), Take California (live), Bring Us Together (live)

Cat No: WALLCD 010
Format: CD
Title: Give 'em Enough Dope 3
Track: Take California

Cat No: Nettwerk 0 6700 301112 9
Format: CD
Title: The Plastic Compilation
Track: Take California (long one)

Cat No: WALLPUSSLP/CD 1
Format: 12"/CD
Title: WALL OF PUSSY Compiliation
Track: Propellerheads - Bring Us Together

Cat No: Wall of Sound/Epic AGENT 3T 12", AGENT 3 SCD
Format: 12"/CDS
Title: Agent Dan (Propellerheads mix)
Artist: Agent Provocateur
Other: also found on their album "Where The Wild Things Are"

Cat. No: Wall Of Sound/East West 12": EW 136T [4.33]. CD: EW 136CD [4.33]) Unique/Warner Music
Format: 12"/CDS
Title: On Her Majesty's Secret Service (John Barry)
Artist: Propellerheads/David Arnold
Other: Also available on the James Bond Tribute "Shaken And Stirred" US or UK (WEA/Discovery/Trend/Musicraft 31011).
More: There is a rare compilation called "No Mr. Bond - I Expect You To Dance" with this track also. anyone?

Cat No: ZTT ZANG 87C
Format: 12"/CDS
Title: Lopez
Artist: 808 State (Hand On/A Direct Neural Mix by the Props)
Other: also available on the Japanese import Thermo Kings with other 808 State remixes (Cat No:WPCR-942 Japan)

Cat No: SAM 1953 Warner Music
Format: 12" promo
Title: House On Fire
Artist: Arkarna (Propellerheads mix)

Cat No: 9 43878-2 Reprise
Format: CDS
Title: House on Fire
Artist: Arkarna (Propellerheads mix)

Cat No: WALLT/D 023
Format: 12"/CDS
Title: Welcome to Tackletown
Artist: Mekon
Tracks: B1 Propellerheads Remix

Cat No 1: LASHX 60 Slash/London promo w/o sleeve
Cat No 2: LASHX 60 Slash/London promo w/sleeve
Cat No 3: LA SCD 60 Slash/London CD
Format: 12"/CDS
Title: Super Bon Bon (Propellerheads Mezzanine Mix) and (Edit)
Artist: Soul Coughing

Cat No: Capitol/EMI 7423 8841112 2 6
Format: CD
Title: Naked Eye (Propellerheads mix)
Other: UK remix CD2, also available on UK "Under Your Skin"

Vinyl Cat No: SQUAT/LACERBA SQUCD 4, LACERBA/CERBAD 3
CD Cat No: Echo/Mercury 314 568 282-2
Format: 12"/CD
Title: Life In Mono (Propellerheads Alice Band remix), (Propellerheads Sweat Band mix); tracks 2 and 3 on the CD single
Artist: Mono
Other: Alice Band remix avial. on TRIHOPCRISY IV and the Sweat Band mix is avail. on BIG BEAT ELITE

Cat No: Harthouse HH112
Format: 12"
Title: Chupacabra (Propellerheads Three Amigos remix)
Artist: Freddy Fresh

Cat No: WALLD 036
Format: 12", CD
Title: History Repeating
Artist: Propellerheads feat. Shirley Bassey
Tracks: 1 Ankle Length mix, 2 Hip Length mix, 3 Knee Length mix

Cat No: ?
Format: CD
Title: Backseat Driver
Other: "Tomorrow Never Dies" soundtrack

Cat No: UNI/DREAMWORKS DRMDM-58006
Format: 12"/CDS
Title: Bang On
Tracks: 1 Bang On, 2 Spybreak (long one), 3 Clang, 4 Props Got Mo' Skills, 5 Bring Us Together
Review: Pure Propellerheads mayhem from start to finish, a well spoken sample kicks off,
then into a muted frenzy, which lets you know that, however much you might think
of it now, it's going to kick you in the head in 3 - 2 - wait for it - bang on! Pausing only
to repeat this cry, its chemical induced madness it rocks until, inevitably it starts to
fall apart, leaving you pushing harder, trying to keep the fragments together as the
beats slip out of your grasp

Cat. No: WALLTO45-C and WALLD045-C
Format: 12"/CDS
Title: The Extended Play
The Propellerheads are back with more smooth lyrics laid over their special blend of
jazzy & soulful beats. 4 excellent tracks including 1 bigbeat piece that will go
over very well with the Norman Cook fans.

Format: CD
Title: Decksandrumsandrockandroll


---
Propellerheads Tour Information

Date       City             State           Venue
not touring the US as of now

---
Links
Wall of Sound--Their label.
Dreamworks--US distributor.
Props on Dreamworks
Props on WOS
The Propellerheads on Dotmusic
Alex Gifford's 1996 Top 10


SOUND 1Take California--An absolutely brilliant concoction.


SOUND 2Super Bon Bon re-mix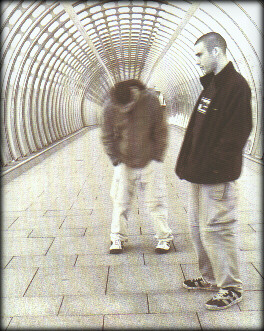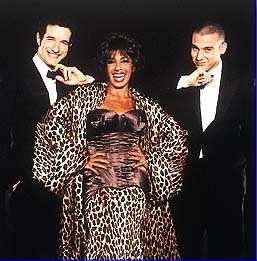 You are visitor
#
to visit since August 9, 1997.
This page was last updated on February 15, 1998.