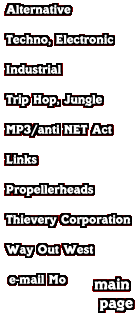 Thievery Corporation is made up of two brilliant DJs: Eric Hilton and Rob Garza. They have gained critical acclaim form magazines. Urb raves "Aptly named, this studio duo uses the sampler as a weapon, holding hostage the sly secret sounds of action movies, MC's and ambient tracks". CMJ praises "Thievery Corporation will leave you speechless (if not breathless)." XLR8R says "Simply Yummy". Thievery Corp. continue to make DJ top 10 lists. They are generally unknown by name even though their music has appeared in many places, including commercials ("Coming Fom The Top" for Dockers and "Indra" for Citibank and Lincoln), movies (Vanilla Sky, the Psycho remake, and *gasp* Wing Commander) and TV shows ("Milk of the Commander" has appeared on The Sopranos, Sex and the City, and ER).

Here's a link for Thievery Corporation courtesy of the famous Eighteenth Street Lounge, the famous label and lounge in DC.Thievery Corporation

The group's excellent debut album is entitled Sounds from the Thievery Hi-Fi (1998), a very relaxing but never drowsy downtempo album that mixes dub, breakbeat, reggae, and jazz for a sublime, laidback fusion.

The following is the tracklisting of their debut album:

1) A Warning
2) 2001 Spliff Odyssey
3) Shaolin Satellite
4) Vivid
5) Universal Highness
6) Manha
7) The Glass Bead Game
8) The Foundation
9) Interlude
10) The Oscillator
11) So Vast As The Sky
12) .38 .45 (A Thievery Number)
13) Walking Through Babylon

catalog number ESL 5

The record is dedicated to Antonio Carlos Jobim.

"Simply Gorgeous" - MUZIK
"The deepest groove record since Massive Attack's Blue Lines" - SPIN



Thievery Corporation have been prolific in my time away from updating this site (sorry guys!). Be sure to also check out:

Abductions and Reconstructions (1999) - remix album
"...ABDUCTIONS & RECONSTRUCTIONS is a smooth, languid offering of chilled-out dub and trip-hop grooves. An eclectic array of talents, including David Byrne, Stereolab, Pizzicato 5, Gus Gus and Black Uhuru, serve as the duo's source material." - CMJ

DJ Kicks - Thievery Corporation (1999 compilation) - mix of downtempo lounge and chillout.

Mirror Conspiracy (2000) - sublime reggae, lounge/downtempo, bossa nova, and breaks.
"...their remix work since then has since established them as leaders of the pack. And true to its name, the Corporation surreptitiously lays down overdubs of keyboards, congas, and percussive instruments to piece together a darkly beautiful piece of music in The Mirror Conspiracy." - Wall of Sound

Sounds from the Verve Hi-Fi (2002) - funky, groovy jazz

The Richest Man in Babylon (2002) - downtempo, dub, bossa nova, and world beats (Latin/Persian/Indian).



Pictures and videos from Artscape 2003 (Baltimore)!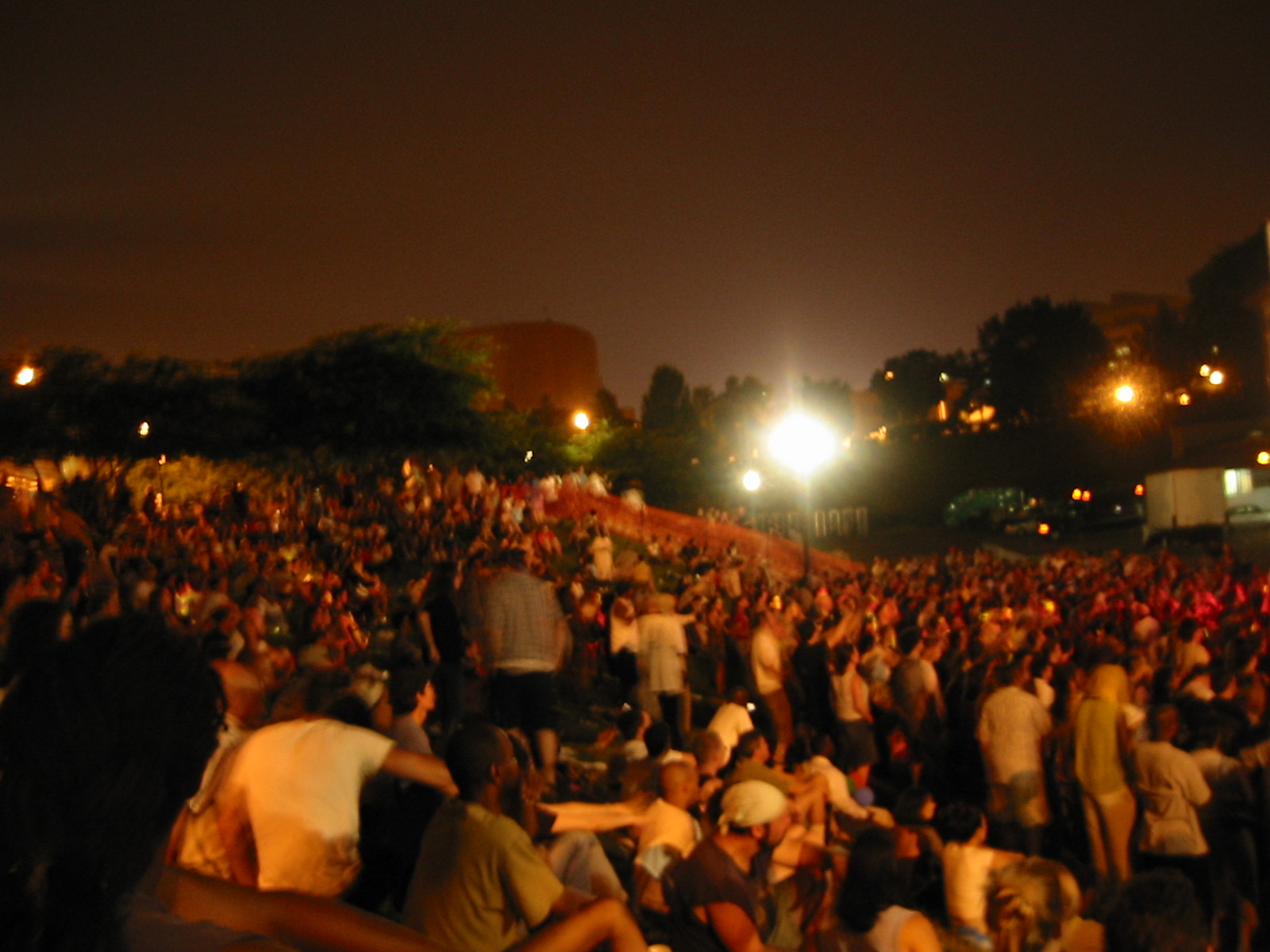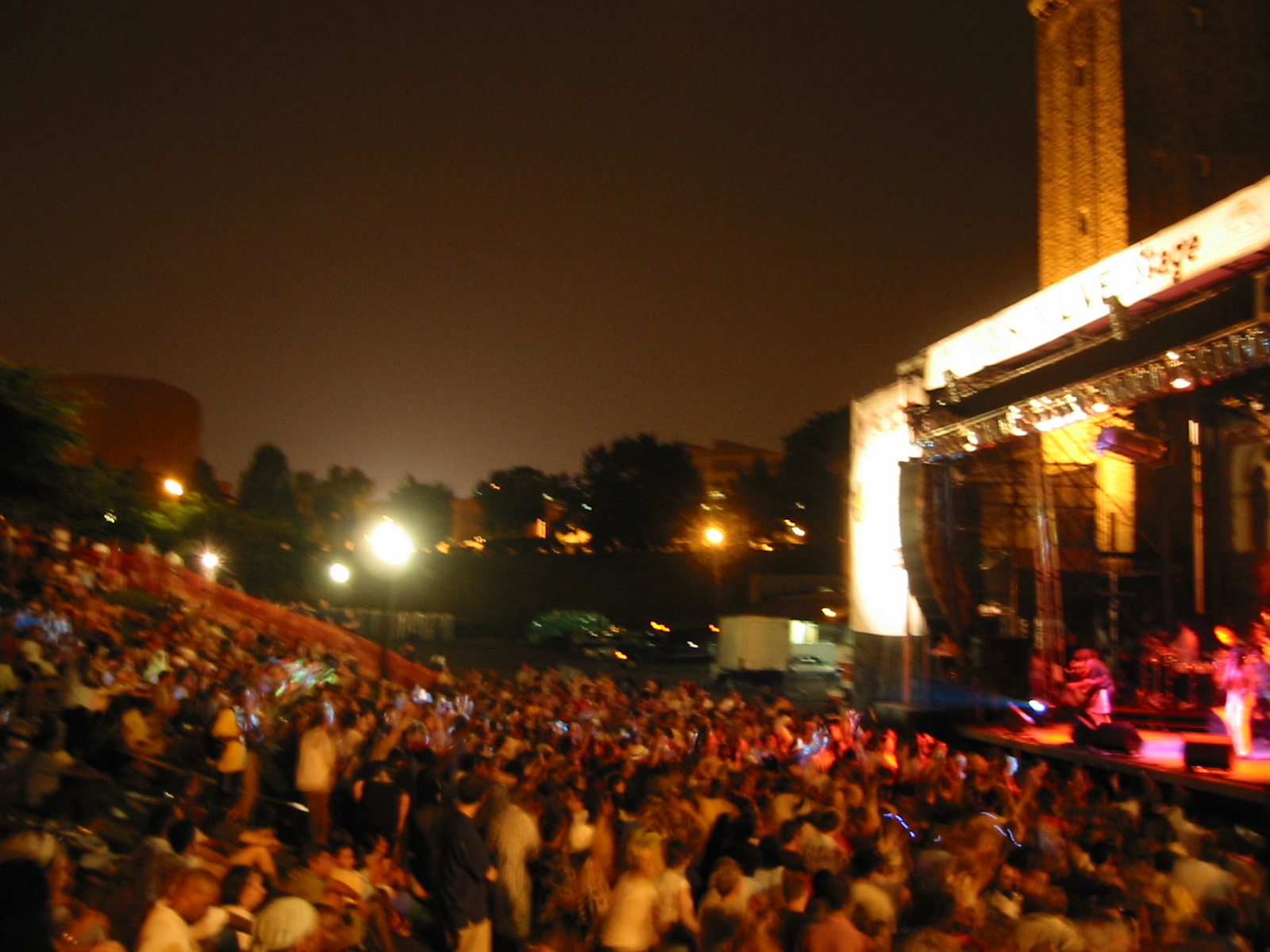 sitar.mpg
Loulou.mpg



For more information, contact:

1212 18th Street NW
Washington DC 20036

phone # 202-466-3922





You are visitor
#
to visit since September 7, 2000.
This page was last updated on July 31, 2003.