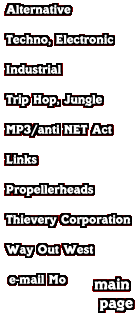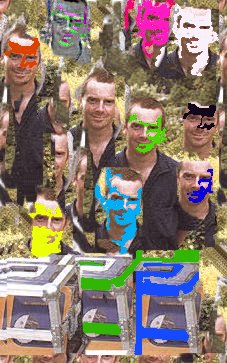 Way Out West is the UK DJ project consisted of Nick Warren and Jody Wisternoff.

They have done numerous remixes for other artists but have a few original releases that I am aware of.

On Deconstruction, they have released "The Gift" featuring Miss Joanna Law, a progressive house song with nice vocal additions at a healthy groove of 133 bpm. The familiar tune of "The First Time Ever I Saw Your Face" is surrounded by the movin' techno drum and bass of the amazing duo.

Their new 12" released in the UK recently is entitled "Blue" and is receiving rave reviews.

Nick Warren has travelled through the indie, balearic, and now underground trance scenes. His DJing career has seen him travelling as far afield asthe far east, and across the states in 1993 with Massive Attack

Way Out West is not to be confused with the one or more country bands by the same name or the surf/rockabilly band from Germany. Way Out West are DJs and artists of trance and house in top form!

Here's an interview with Way Out West.



WAY OUT WEST DISCOGRAPHY
* thanks to Vince H (Groovin aka Origin8r), John, and Gabor for their help

*****Deconstruction Catalog Releases*****

Catalog #              Release 
----------------------------------------------------------------------------------------
091                    Way Out West "Ajare/Montana" '94
		       Re-release Ajare '97
     Track listing for the 12 inch:  A1:  Ajare (Original Mix)  5:44
                                     A2:  Ajare (Way Out West Remix)  7:20
                                     B1:  Ajare (Bros. in Rhythm Club Mix)  10.32


?		       Way Out West "Montana/Bitch" '95


?		       Way Out West "Ajare/Montana" w/Lakota mix '95


121		       Way Out West "Domination" '94
		       	Re-release Domination '96
     Track Listing for the vinyl 12 ": A1.  Domination (Muruoa Mix) 8:41
                                       B1.  Domination (Bonkers Break Beat Mix)  6:13
                                       B2.  Domination (Way Out West Dub)  7:34


137                    Way Out West "The Gift" Feat. Joanna Law 
     Track listing for the cd single:  1.  The Gift (Radio Edit)  4:25
                                       2.  The Gift (Original Mix)  7:20
                                       3.  The Gift (Club Mix)  8:18


?                      Way Out West "Blue" '97


?		       Way Out West s/t debut album '01
     Tracklisting for album:	1.  Blue
				2.  The Gift
				3.  Domination
				4.  Dancehall Tornado
				5.  Questions Never Answered
				6.  Sequoia
				7.  Ajare
				8.  Drive By
				9.  King of the Funk
				10. Earth
  

*****Other Releases*****

1993		Ajare 12" not on Deconstruction
1993-94		Way Out West - "Shoot" on Terra Firma Records
		Way Out West - "Music For Libraries" - Terra Firma Records
1997?		Live at Club Discobolos (Prague, Czech Republic)
		track listing:

CD1  cruzeman: ohm sessions (coloured oxygen reprise)
     nalin & kane: beachball
     cruzeman: tech theme
     coffee boys: nipple fish
     mikerobonics: schattenmund (dave angel mix)
     aquaplex system: spirit
     riot rythm: noise shots
     watchman: cut the midrange
     lt project: boom
     life on mars: life on mars
     stef, pako & frederik: magic shop (forth coded dub)
     tom celysys: credits

CD2  distant drum: distant drum
     16c+: gospel 2001
     dj randy: pandomia
     darke age: ancient quest
     energy 52: cafe del mar
     chaser: reach for it
     clanger: seadog
     freak & mac zimms: submissions
     deep sky: the tempest
     anjo: sunrise
     moon man: galaxia

cat:gu003



*****Remixes*****
(chronological)

ARTIST				TRACK					LABEL/YR. RELEASED
--------------------------------------------------------------------------------------------
Liquid				Sweet Harmony '95 (Way Out West Mix)    XL/1995
Saint Etienne			Angel					Heavenly/1995
Dubstar				Stars (Way Out West Remix and Edit)     Food/EMI/1996
Dubstar				Not So Manic Now (Way Out West Remix)   Food/EMI/1996
JX				Nothing I Won't Do (Way Out West Mix)   FFRR/1996
Italia				Last Rhythm (Way Out West Mix)          Stress/1996
The Orb				Toxygene (Way Out West Begbie Mix)      Island/1997
Roni Size			Share the Fall (Way Out West Remix)     Mercury/1997
Faithless			Salva Mea (Way Out West Remix)          Cheeky/1997
Clanger				Sea Dog (Way Out West Remix)            Platipus/1997
Marco Zaffarino			The Band (Way Out West Remix)           Silver Planet/1997
Karen Ramirez			Troubled Girl (Way Out West Remix)      Bustin' Loose/1997
Lustral				Everytime (Way Out West Sunrise Mix)	Orbit/1997
Lucky Monkey			Bjango(Way Out West Bjangin' Remix)	MFS Recordings/1997
Republica			Bitch (Way Out West Remix)		Deconstruction/1998
B.B.E.				Desire (Way Out West Remix)             Positiva/1998
Luminaire			Flower Duet (Way Out West Dub)		Glass Note/1998
Castle Trancelott		Indoctrinate (Way Out West Remix)	Slate/1998
Jose Padilla			Sabor De Verano (Way Out West Mix)	Polygram/1998
Paul Van Dyk			For An Angel (Way Out West remix)	Deviant/1998
Art of Noise			Dream On (Way Out West Mix)		
Poseidon			Supertransonic (Jody's Way Out West Mix)Hope Recordings/1999
Le Voie				Le Soleil (1996 Way Out West Club Mix)	?
Hybrid				If I Survive (Way Out West Mix)		Distinctive/1999
Inner City			Good Life (Way Out West Radiio Edit)	Play It Again/1999
Joi				Asian Vibes (Way Out West Mix)		Real World/1999
Orbital 			Nothing Left (Way Out West Remix)  	London Recordings/1999
Liquid Faces			Diving Faces (Way Out West Mix)		FFRR/1999




Nick Warren's TOP TEN

'papua new guinea' f.s.o.l. (jumpin & pumpin)
"This is their first and best record. I like emotional house records. F.S.O.L are influenced by reggae,
hip hop, breakbeats, big chords. 4AD artists are the vocalists, who have always been my favourites."

'lost in the sound' adonis (jack trax)
"This is a Chicago instrumental track. As you can see, very few vocal tracks in dance music excite me.
Deep house has nice choruses, nice sounds. Put it on and it works every time. People dance to it. Our
job as DJs is to make people dance not go up our own arses."

'just let go' petra & co (bcm)
"This an Italian house record, a dub mix. It came out in 1992 and if you hear it you might not know
who it's by but everyone recognises it. I still play it at least once a fortnight. It's got a killer riff that
sticks in peoples' head."

'alone' don carlos (atmo)
"I think this came out in 1992 when the Italian house thing got big exposure in England. Much of it was
Black Box cheesy samples and sounds but this was deep house. An emotional instrumental track.

'only love can break your heart' st etienne (heavenly)
"This came out at the height of the Balearic explosion when people like Oakenfold, Rampling and
Weatherall went to Ibiza. This is a mix by Andy Weatherall, it's mid-tempo, it's not a house track, and
it works so well. You can play it anywhere in a house set."

'chime' orbital (ffrr)
"I remember hearing this for the first time on the radio. I was gobsmacked. Before the era of orbital
raves and Sunrise I'd never heard this music. It was this record that got me into house. Again, it's got a
very British sound."

'keep movin' mike perras (basic)
"This came out around 1993. It's an American Chicago track. Again it's an instrumental deep house
track; it's very emotional. A classic that I hope is not going to be remixed in 1996."

'unfinished sympathy' massive attack (wild bunch)
"This came out when I started to DJ with Daddy G, but before I DJ'd with the band. He brought a
tape around to my flat and said 'listen to this'. I was amazed. I had that feeling of the hairs on the back
of my neck tingling which so rarely happens in dance music. It still sounds brilliant today. It'll never be
remixed or re-released, they would never let anyone near it. They're so precious about their music, and
why shouldn't they be?

'4am' tru funk (three stripe)
"This is Jody's first ever house track which he made with DJ Die - who now records with Roni Size. It
came out in 1991 and it's early acid house. It's brilliant - there's a sax sample going through it."

'cut for life' leftfield (hard hands)
"Leftfield are one of my favourite bands. Their sound is so British in the way they take their influences
from dub reggae to hip hop to techno and mix it all up and come out with something that wouldn't get
made anywhere else. This track has all these elements. It starts with half speed reggae and comes in
with all the elements of dance tracks that I love."


CV: NICK WARREN

LIFE BEFORE DJING: Gamekeeper

FIRST DJ GIG: 1986/7. Student Parties

MOST MEMORABLE GIG:
Best: "Glastonbury, 1995, for
Massive Attack. It was a buzz playing somewhere I'd been going to year after year."

Worst: "Bug Tan in Newquay. The stage was full of pissheads bumping into me and the decks and
falling over."

FAVOURITE CLUBS: Cream, Liverpool; Hippo Club, Cardiff; Pacha, Ibiza

NEXT THREE GIGS: Beat Party, Rhodes (15); RM party, Popkomm (17); Cream, Arches,
Glasgow (20).

LIFE OUTSIDE DJIING: Artist and remixer. "I like fly fishing and watching football."

1997 TOUR INFO:
Epic housers Way Out West have confirmed the following dates for a UK tour: October 1st The Planet Coventry;
Oct 2nd The Cooler Coventry; Oct 4th Divine Colchester; Oct 9th Kingston University; Oct 10th Bristol
University; Oct 17th Leadmill Sheffield; Oct 18th Shimmee Keele; Oct 25th Tunnel Glasgow; November 1st
Golden Manchester; December 28th Pod Dublin. Their live show will include visual experts Subvision mixing
over 30 minutes of original footage into an on-stage jam with the band. More dates are to be confirmed in
November and December.






You are visitor
#
to visit since August 9, 1997.
This page was last updated on June 10, 2001.