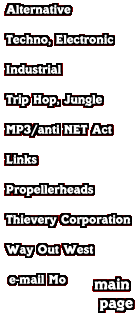 Hyperreal
ELECTRONIC, RAVE, TECHNO, TRANCE, IDM, AMBIENT

Electronic/Techno music is on the rise. This is your source for all the latest artists!



Electronic (i.e. Prodigy)--pulsating synthesizer and beats (100 to 140 bpm), more intricate than club or house
Trance (i.e. Juno Reactor)--very complicated overlapping synthesizers, can be peaceful or menacing (90 to 160 bpm)
Rave--fast electronic music, simple 4/4 beat (140 bpm to 180 bpm)
Gabber--fastest techno, hardcore, thumping 909 beats (160+ bpm)
IDM (i.e. Autechre)--inteligent dance music, subtle overlapped sound, might not have beat, similar to ambient
Ambient (i.e. Banco de Gaia)--slow, usually comforting carefully placed sounds evoking a certain mood, beat is not necessary
Illbient (i.e. DJ Spooky)--menacing, heavily dubbed ambient.


---

Acid Junkies
Air--Their debut album Moon Safari is tearing up the indie downtempo scene.
Alec Empire--Electronic noisecore pioneer.
Anabolic Frolic--Happy hardcore masters, whether you like them or not...



Aphex Twin, Richard D. James, Polygon Window, AFX--Techno genius with calculated noise and distortion to throw your mind into loops.
Aphex Twin (2)
Aphex Twin (3)


Aphex Twin (4)--The amazing archive!


Aphex Twin (sound)--Mess up your head with the Girl/Boy song.
Atari Teeanage Riot--Delete yourself with techno punk thrashing.
Atari Teenage Riot (2)--Stop Racism. Bleed your ears out.
Atari Teenage Riot (3)--Racism and Deutschland have gotta die.
Aux 88
Bazooka Deluxe
Bochum Welt
Bomb The Bass--Funky fusion of many electronic genres.
Boymerang--Drum and bass techno beats.
BPMF
Carl Cox--The best DJ in the world?
Carl Craig, 69--Respect due to a great Detroit Techno DJ.
CJ Bolland
Darren Price
Dave Angel
Dave Clarke--Techno collaborator with the chem bros.
Dirty Beatniks--Dirty big beat tripdom.
Disciples of Annihilation--More super-BPM gabbercore for your head!
Djam Karet--The most impressive instrumentation since Pink Floyd.
DJ Worx--aka DJ Trance, a net friend with cool trance and goa mixing stylez.
Drexciya
Dub Terrorist, Scorn, Lull, Painkiller, Techno Animal, Final--From ambient dub to industrial, this stuff is cutting-edge.
Dubtribe
Ec8or--More Digital Hardcore!


808 State--Great techno originators.
808 State (2)--A nice discography.
Electric Skychurch
Electroliners
Empirion--Check out single 'Narcotic Influence', the LP 'Advanced Technology' and their remix of Prodigy's Firestarter.
Empirion (2)--Official biography.
Empirion (3)--See what they wrote me!
Empty Set
Eskimos & Egypt--Only if you speak Deutsche.
Fatboy Slim, Norman Cook, Mighty Dub Katz, Freakpower--"Better Living Through Chemistry" is one of the best big beat albums ever made!
Fatboy Slim (2)--The swell Astralwerks page.


Fatboy Slim (sound)--Here's the song "Michael Jackson."
Fila Brazilia--Some text on their work.
Fila Brazilia (2)--Their superb record label, Pork. Go there for more info.
Fluke--Baby got an atom bomb.
Fluke (2)--"Risotto" is Fluke's bravest electronic accomplishment, placing them in a league with Underworld.
Full Blown Kirk--A new independent techno band that incorporates so many fused elements that they cannot be comtained within one genre.
Future Loop Foundation


Future Sound Of London
Future Sound Of London (2)
Future Sound Of London (3)

Future Sound Of London (sound)--Here's a sample of the amazing "We Have Explosive" re-mixed again by FSOL.
Global Communication
Greater Than One, GTO, Technohead, John and Julie, Church of Extasy, Signs of Chaos, Tricky Disco
The Grid
The Grid (2)
Hallucinogen--Goa trance and acid mutation.
Hardfloor--Acid: Roland 303 on a trip.
Hardknox--What an appropriate name. This acid big beat will drive you mad! Rave reviews for the song Hip-Hop Prankster
Higher Intelligence Agency
Intermix--Leeb + Fulber create rich ambient techno soundscapes.
Jam and Spoon
Jeff Mills
Joey Beltram
Jonny L
Josh Wink
Junkie XL--Rocktronica that really blows your mind.
Juno Reactor
Ken Ishii--Japanese DJ extraordinaire
Kenny Larkin



Keoki--DJ Keoki has a remix album entitled "Inevitable Alien Nation".
Keoki (2)
The KLF
Leftfield--Fusion of techno and jungle/dub with world flavas.
Leftfield (2)--Please...a new album ?
LFO--Sample the LP "Frequencies". Sample the LP "Advance"
Liquid Todd
Locust


Locust (2)--"Tamed" by the wild sounds.
Loop Guru
Lords of Acid--The new album "Our Little Secret" is out. This is amazing techno-industrial music with their usual crazy synths and sweet shocking vocals. Thank you Praga Khan for the best LoA album yet!
Lunatic Asylum
Lunatic Calm--Combine the old Prodigy with and the sound of old Nine Inch Nails.
Messiah--You're going insane with rave and gabbercore.


Mind Bender
Mixmaster Morris



Moby--Techno artist unorthodox vegan Christian animal rights activist and environmentalist.


Moby (2)

Moby (3)
Motion Control--Underground Norwegian techno.
mu-ziq



New Order--"I used to think that the day would never come..."
New Order (2)--New Order, Joy Division and other things related.
N-Joi--The New unofficial page!
Noise Unit--New album "Drill" is the best stuff I have heard from the Front Line Assembly crew in a long while.
One Inch Punch--Justin Warfield's techno/trip-hop excursion.


the Orb--New official site: the Ultraworld.
the Orb (2)
the Orb (3)--Discography.
the Orb (4)--A useful fan page.


the Orb (sound)--Wow, an mp2 trip with "Toxygene".



Orbital--Every one of their techno albums is a pure masterpiece.


Orbital (2)
Orbital (3)--Complete discography.
Orbital (4)
Orbital (5)--On Dotmusic.


Orbital (sound)--The sound of "P.E.T.R.O.L."
Paul Van Dyk--Great remixer and trance artist.
Pigeonhed--Steve Fisk, Seattle grunge mastermind and funky electronic specialist teams up with Shawn Smith and Kim Tayil of Soundgarden.
Plastikman--Richie Hawtin: the original Detroit Techno DJ.
Primal Scream--New album "Echo Dek" is out in the UK.


Prodigal Sons


Prodigy--Ok ok, so there not underground anymore. "FAT OF THE LAND" is still amazing!
Prodigy (2)
Prodigy (3)
Prodigy (4)




Propellerheads--An up and coming techno group.

Propellerheads (2)--A good page by Dotmusic on da props.


Propellerheads (sound)--The absolutely brilliant concoction: "Take California".


Prophecy of Panic
Rabbit In The Moon--RITM make tripped-out remixes for Sarah McLachlan and Garbage.


Rabbit In The Moon (sound)--"Floori.d.a."


Rhythm Saints
Sabres of Paradise, Two Lone Swordsmen--The genius of Andrew Weatherall. This site deals with all things related.
Scanner--He uses samples from cell phone conversations.
Scott Hardkiss--Unbelievable acid DJ from God Within. "Acid Funk" is one of the best acid house tracks ever to lay waste to my brain.
Secret Knowledge--Formerly Delta Lady.
Seefeel--Guitars and synths...indie rock and ambient techno.
The Shamen--New music is due out from this progessive techno group.
Shaolin Wooden Men
Shizuo--Japanese digital hardcore.
Simply Jeff--DJ mixmastah.



Single Gun Theory--Australian techno/rock band with impressive blending of samples and beautiful female vocals.
Single Gun Theory (2)--Select from a menu.
Skylab
Skylab 2000--A trance and acid group from LA.
Slacker--Official biography.
Slacker (2)


Sol Brothers--Info on this Big Beat duo from Fresh Records.
Sonic Subjunkies--DHR Berlin headache music.
Soul Oddity


Soul Oddity (sound)--Amazing space-hop: "Get Fresh"!
Spacetime Continuum


Spacetime Continuum (sound)--40 minutes, recorded live from Chicago!
Speedy J
Spooky--I dunno what happened to the official site.
Squarepusher--Techno drum and bass superbly fused into mindfunkinmuzik!
Sun Electric
Sunscreem--Techno rock w/ female vocals and fine beats and rhythms.
Surgeon
Symbiosis--Check the amazing album "Clandestine Electronic Subculture" which is quite a subculture in itself of beats, samples, and turntablizing.
Synaesthesia--"Ephemeral" ambient sounds.
System 7
Terre Thaemlitz
Uberzone--Break a little sumthin' wid botz.
Ultraviolence--Techno gabber industrial maniac.