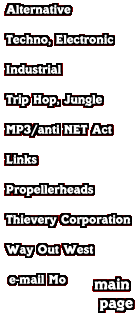 Trip Hop (i.e. Portishead)--The bastard child of hip-hop and acid jazz, thanks to Bristol. Funky, groovy, dubby music with characteristics of hip-hop, jazz, funk, rock, and reggae all possible.
Hip-hop (i.e. A Tribe Called Quest)--Should need no introduction.
House--Dance music that evolved from disco, funk, and hip-hop.
Acid Jazz--Jazz cultivated with electronic elements.
Jungle/Drum and Bass (i.e. LTJ Bukem, Ed Rush)--Characterized by rhythmically diverse breakbeats. The sound evolved from soul, funk, jazz, and hip-hop; along the way, it has picked up reggae, ragga, and dub influences (i.e. Shy FX). The term "drum and bass" has gradually emerged to describe this style of music and encompasses it's many subgenres and derivatives: ragga, hardstep, jump-up, techstep, etc.
Dub (i.e. Massive Attack)--Downtempo derivative of reggae. Characterized by tape/analog delays and dubs for a trippy effect. Heavy influence on trip hop.
Post-Rock (i.e. Oval)--Not prog rock. Not a well-defined genre of music. Experimental, minimalist, and unpredictable. Instrumention varies but include aspects of rock, trip hop, dub, electronic, and other forms.
Turntablism (i.e. Invisibl Skratch Piklz)--The use of turntables to create music.


---

Aceyalone--Master of spoken-word rap with jazzy, dark ambience and candid street-smart flow.
Aceyalone (2)
Akotcha
Alpha--The next evolution in Bristol trip hop.
Apollo 440
Apollo 440 (2)
Art of Noise


Asian Dub Foundation--A simply amazing band that fuses punk, funk, rap, and jungle. They break barriers in race and in music.
Asian Dub Foundation (2)--A page in French.
Asian Dub Foundation (3)--Interview.



A Tribe Called Quest--Hip hop innovators.
A Tribe Called Quest (2)--The new official site!
A Tribe Called Quest (3)
A Tribe Called Quest (4)
Attica Blues--Props to these mackinest beatfreakadelics.


Audioweb--This band takes britpop fusion to a whole new level, combining aspects of dub/reggae into the mix for a truly original sound.
Augustus Pablo--Reggae dub pioneer.



Beastie Boys--Mike D and the B-boys know how to tear it up!
Beastie Boys (2)
Beastie Boys (3)--New album "Hello Nasty" is coming in July!
Beastie Boys (4)


Beat Junkies--Listen to some real underground hip-hop that will have your head spinning like a 45.
Beth Orton--Trip hop? Unplugged electronica? Folk? You decide.
Bjork--Get Bjork's album "Homogenic"!
Bjork (2)--Quite a strange talent.
Bjork (3)--Bjork discography.
Boogie Down Productions--Of KRS-One Infamy. These are the lyrics.
Brand New Heavies--Acid jazz, house , and grooves. Can you ask for more?
Brand Nubian
BS 2000--Ad-Rock of the Beastie Boys puts together vinyl-only experimental beat album. Buffalo Daughter
Buffalo Daughter (2)--One of my favorite bands. They take dub, rock, and hip-hop to insane levels with mind-blowing collage meshing of old-time synths and messed-up samples.
Chocolate Weasel--Acid rock and dubbed-out funk that is cool enough to chill too and funky enough to move you. Features pre-eminent drum-n-bass pioneer T-Power.
Cibo Matto
Coldcut--Check out their totally phat new single "More Beats and Pieces" with the most bizarro sampling turntablist job you've ever heard!
Coldcut (2)--Coldcut's how to get the party started! They have amazing use of analog (vinyl) and digital for the complete trip of a listening experience.
Company Flow--Q magazine calles them Wu-Tang without the paranoia. Fresh hip-hop tunes.
Company Flow (2)
Cut Chemist--Breaking ground with the turntables, cutting mixes for DJ Shadow too.
Cypress Hill



Death In Vegas--Essential trip hop dub rock band. Check the "Dirt" single.
Death In Vegas (2)--US release of "Dead Elvis" is September 13.


Death In Vegas (3)--Rekkit's unofficial page.


Death In Vegas (sound)--Sample the world-infamous "Dirt"
Deee-lite--I couldn't ask for another. Pure, fun 80s acid house.
De La Soul--De La is definitely on point with the flow.
Depth Charge--a.k.a. Silver Fox, Octogan Man.
Depth Charge (2)
Disk--Veteran DJ that can be seen adding flavor even in Primus shows?
DJ Cam


DJ Cam (2)
DJ Emily--One of the cutest NY hard house DJs on the scene.
DJ Food
DJ Krush--Japanese pioneer of jazz and hip-hop. DJ Krush (2)
DJ Pierre
DJ Shadow--Funky groovy trip hop, has helped the likes of Dr. Dre.


DJ Soul Slinger (sound)--Amazing producer for the famed Liquid Sky. Check this sample of "Ali Rocks"!
DJ Vadim
Dr. Octagon, Kool Keith, Ultramagnetic MCs
Dr. Octagon (2)-- The most successful indie rap artist ever, on Bulk Recordings with DJ Q-Bert at the decks and contribution from DJ Shadow.
Dr. Octagon (3)


Dr. Onionskin--Christian acid jazz!
Drum Club


Dub Pistols (sound)--"There's Gonna Be A Riot" in Real Audio.
Dubstar--Trip hop dub synthpop and a cute female lead. Check the Way out West remix of "Stars".
Dub Syndicate
The Dust Brothers--First album expected this year.
Emergency Broadcast Network
Endemic Void--The LP "Equations" is now available in the US.
European Space Reggae--Believe it! It's good stuff too!
4 Hero--Here's a review of "Parallel Universe".
Frankie Bones--Amazing house DJ from NYC.
Frankie Knuckles--This house DJ originator answers "What is house music?"
Freestyle Fellowship--Rolling with Pharcyde, these west-coast junkies do a jazz-funk style of rap.
Freestylers--Funky electro disco, dubbified and scratchified.
Funki Porcini
Gang Starr--DJ Premiere, the most sought-after producer in hip-hop (forget Puffy Combs).
Gang Starr (2)--Discography, which will later include their forthcoming album "Moment of Truth" which is due out in mid-November.
Genaside II--Begin your love-hate realtionship with this disturbed and disturbing rap group. Info on their album is available here.
Goldie--Finally, a truly worthy Goldie site.
Goldie (2)--Check the breakbeat masterpiece "Timeless". New album entitled "Saturns Return" arrived in February.
Goldie (3)--New single "Digital" features KRS-One and an Armand re-mix.
Goldie (4)--Props from Vibe.
Golden Palominos--"Victim" is the scariest trip hop song ever concocted.
Grandmaster Flash--The Furious Five and Melle Mel, move over Puff Daddy. "The Message" is the second most important rap song ever recorded behind "Rapper's Delight."
Greyboy


Groove Collective--Acid jazz for the next generation with amazing live instrumenation.
Grooverider
Gus Gus--"Polydistortion" is a cool trip hop/rock album.
A Guy Called Gerald--Drum and bass and ambient techno?
Headrillaz
The Herbaliser
Hieroglypics--Get educated with Del The Funky Homosapien and the underground hip-hop, "3rd Eye Vision".
Hooverphonic--"2Wicky" is chill.
Howie B--A brave and time-tested remixer for Bjork, U2, New Order, etc.


Invisible Skratch Piklz--More real hip-hop for headz who know. Check that dope scratch!
Invisible Skratch Piklz (2)--DJ Q-Bert and Shortkut, among others. You can't go wrong.
Jungle Brothers--JB's on the promo and my never ending quest to get the paper on the caper...
Jurassic 5--A throw-back to old school hip-hop as it was meant to be.
Kid Koala-Cool remix of "More Beats & Pieces" for Coldcut. This Montreal DJ recently signed to Ninja Tune.
Kid Loops--
KRS-One, Boogie Down Productions--Hip-hop genius and supreme MC.
KRS-One (2)--Appreciate this dope rhyme sayer.
La Funk Mob, Motorbass
Lamb--Trip hop and jazzy breakbeat.
Lee "Scratch" Perry--Important figure in reggae and dub.
Lionrock--'An Instinct For Detection' is a great funky trip hop album.
Lionrock (2)
Lionrock (3)


Lionrock (sound)--Sample the tasty "Fire Up The Shoesaw."
Lo Fidelity All-Stars--A new album is in the works. I can't wait, these mates rule with funky rockin big beat that cannot be outdone.
London Funk Allstars--Ninja Tune's funk-n-jazz outfit.
LTJ Bukem--"Logical Progression" is a masterful compilation album.
Luke Vibert, Wagon Christ, Plug--Luke Vibert debut is stunning drum and bass.
Luke Vibert (2)
Luke Vibert (3)
Mad Professor--Dub mastermind remixer extraordinaire.
Man or Astroman?--As weird as experimental can get (excluding Merzbow and other noisemongers).
Marden Hill--It takes Hill to do acid jazz with funky fresh beats.
Massive Attack--Trip hop originators.
Massive Attack (2)--The original downtempo masterminds.
Massive Attack (3)--So much soul.
Massive Attack (4)


Massive Attack (sound)--Servin' up a fresh sample of "Eurochild."



Meat Beat Manifesto--New album 'Actual Sounds + Voices' is due out late August or early September 1998.
Meat Beat Manifesto (2)--Finally, another MBM site!


Medeski Martin & Wood--The most amazingly brilliant jazz fusion group. An organist (Medeski), a bassist(Martin), and a drummer (Martin).

Mekon--Mekon and Schooly D's in the house!
Middle Passage--Hip-hop funk, soul, and other fusion with scratches. Amazing underground stuff!
Midfield General--Good big beat triph op fusion.
Money Mark--Beastie Boys' keyboradist and carpenter.
Monkey Mafia
Mono
Mono (2)
Moodswings
Morcheeba
Mos Def--Keeping the hip-hop underground thumping.
Mouse On Mars--Techno expreimentally disassembled into rock components. Figure that one out.
Natural Born Chillers--Diabolical breakbeat fiends behind the hit "Rock the Funky Beats".
Nightmares On Wax
Olive
Olive (2)
Omni Trio
One Dove
Oval, Microstoria--Experimental post-rock that lurks in your mind.
Panasonic--Trip hop post-rock, influenced and re-mixed by goth and industrial. How's that for a blurring of genre names?
Pelican City--Pelican City have released two full length albums: The Chilling Effect and Rhode Island.
Pharcyde
Photek


Photek (sound)--Sound sample of "Minotaur."
Polvo--If you like Sterolab...
Portishead--New album "Portishead"!
Public Enemy
Q-Bert--One of the most talented scratch DJs on the planet. Member of the Skratch Piklz.
Q-Burns--A talented acid jazz trip hop reggae DJ who has toured with the Chemical Brothers.


Q-Burns (2)--Dubbified electronica.
Radar, Z-Trip--West coast desert turntablism.
Raw Produce--Intelligent hip-hop and grooved-out remixing power for the Tommy Boy label.
Red Snapper--Check the album "Reeled and Skinned".
Red Snapper (2)
Renegade Soundwave---Waaaaaay ahead of their time.
Renegade Soundwave (2)
Renegade Soundwave (3)
Req
Rockers Hi-Fi--New LP "Mish Mash" is out.
Roni Size, Reprazent
Roni Size (2)
Ruby--"Salt Peter" is a powerful trip hop tour.
Run DMC--More hip-hop originators.
Saint Etienne
Sasha--Legendary DJ, europe's most talented.
Sasha (2)
Schoolly D--Do not diss the old school hip-hop.
Seefeel--Guitars and synths...indie rock and ambient techno. Goto techno
Snooze--Jazzy trip hop as you have not experienced. Your sweetest dreams in musical form.


Spiritualized--"Ladies and Gentlemen, we are floating in space."
Spring Heel Jack
Squarepusher--Techno drum and bass superbly fused into mindfunkinmuzik!
Stereo MCs
Sukia



Thievery Corporation--Get "Sounds From The Thievery Hi-Fi". Available on 18th Street Lounge Records.

Towa Tei--The strange mastermind behind Deee-lite and other production oddities.
T-Power
Todd Terry--House re-mix expert.
Tortoise--Underground trip-hop, post-rock endurance and skill is mastered by this group.
Trans Am--Brainwashed likes strange industrial and strange rock.
Transglobal Underground
Tricky--"Pre-Millennium Tension" is dope.
Tricky (2)--The Nearly God site.
Tricky (3)
Troublefunk--DC's go-go legends that provided funk and grooves that made it worthy of the Sugar Hill label.
Ultramagnetic MCs--Lyrics
Ultramarine
United Future Organization--An asian trippy acid jazz trio.
Urban Dance Squad--Fusion of rock, hip-hop, and funk.
Wax Doctor



Way Out West--MY UNOFFICIAL PAGE! w/new tour dates.

Wu-Tang Clan
Wu-Tang Clan (2)--New album called "Wu-Tang Forever" is very thought-provoking and highly recommended.
Wu-Tang Clan (3)
Wu-Tang Clan (4)
Wu-Tang Clan (5)


X-ecutioners, X-Men--Pioneers of the new school scrathety-scratch style of hip-hop that will drive you mad and leave you begging for more!.
X-ecutioners (2)






You are music addict



to visit since September 17, 1997.
This page was last updated September 6, 2001.